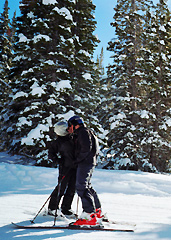 Well, you did it.
It wasn't easy, but you whittled your New Year's resolutions list down to just two crucial action items:
Go on more blind dates.
Get to the slopes more.
And ideally, do them at the same time. In Vermont.
Introducing
Ski Dating
, the perfect marriage of skiing and crazy blind dating, now taking reservations for this Sunday at Mt. Snow.
So here's the itinerary: you'll rise before the sun comes up and get to the Back Bay by 5am, where a shuttle will transport you and a few dozen other under-45 singles up to Vermont. Your two commonalities: dating people you've never met, and thrashing some black diamonds (or at least some deceptively tricky green circles).
By 9am you'll be pulling in to Mt. Snow, where you'll be divided into groups of six to eight singles and let loose on the mountain (you may want to use the shuttle ride to start narrowing down your chairlift partners).
After you've made an indelible mark on the mountain (as well as the dating pool), you'll retire to the Snow Barn (think: your typical snow lodge bar) for some après-ski cocktails and appetizers.
Then, it's back on the bus to Boston, where they'll have a movie waiting for you, just like ski club.
If you'll recall, what happens on the bus, stays on the bus.