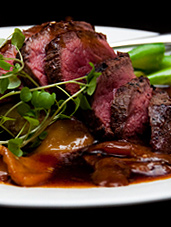 Coffee shops.
Over the years, their core competency has served you well.
However, it's high time someone embraced one shop's potential to be a killer dining destination. For three nights only, let's say. In Somerville, to say a bit more.
Presenting the
Eat @ Bloc 11
, a new three-day pop-up restaurant taking over a beloved Union Square coffee shop, now taking reservations for January.
If you've ever sampled the culinary masterwork of Will Gilson at Garden at the Cellar in Cambridge, sat back and thought to yourself, "I bet this would be even more delicious in a random coffee shop," consider your mind read.
Because once inside the Block 11 café around 7pm on January 14, 15 or 16, your dreams of having a restaurant experience in a non-restaurant will be realized. You'll start with some passed hors d'oeuvres as you walk in. Then you'll sit down and work your way through five courses. Think:
Whiskey Cured/Cigar Smoked Salmon
,
Roasted Pumpkin Salad with Fried Sage
and
Coffee Rubbed Pork Tenderloin
(you are in a coffee shop, after all).
And if you dig their "let's put a restaurant someplace where it normally isn't" vibe, you'll be happy to hear that Will and the other organizers will be holding a series of these nights in different locations in the coming months.
We feel a brewpub in a hair salon coming on.