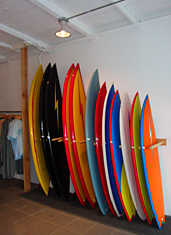 You've always gone against the grain.
You saw
Avatar
in 2D. When jeggings got hot, you wore leans. Your favorite Jonas is Joe.
And when the skies open to unleash a crazy rainstorm upon us, you can't help but think it's time to go surfing.
So we're pleased to introduce a new retro surf shop called
Lightning Bolt
, arriving in Venice just in time to help you figure out some way you could possibly get wet.
It's a beachy little shack with grungy floors and a white wood ceiling―you'd feel like you were right on the beach in the heart of summer, if not for the current monsoon. (The beach is only a couple blocks away, and the sun will be back in 2011.)
You'll find plenty of custom-shaped surfboards here, as well as '70s-style board shorts (retro but not
too
high-thigh retro) and casual T-shirts that'll make you feel like you're in a surf movie even if you're in a business meeting. (Go ahead, wear trunks under your suit.)
Sometime next year, they'll be branching out to corduroy pants, henleys and nautical hoodies. Those last ones will zip all the way up to protect your face when you're on a boat.
And as for the name―well, everything's got a lightning bolt on it.
No, you don't have to like the Chargers.