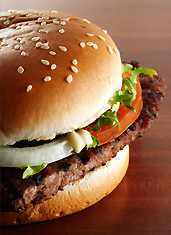 Excess.
You've always said there's a time and a place for it.
So we need to tell you: now is that time. Here is that place. And full disclosure: it concerns burgers.
Introducing
I Love Burgers
, the Palazzo's new burger palace, soft-open now.
This is what happens when an unassuming '50s-style diner gets overtaken by overwhelming burger-love and a blatant disregard for moderation. Just look for the spot with the 15-foot mushroom statues. (Shouldn't be hard to find.)
Then you'll have to make a decision. Down road one: a menu of crazy burgers like the
Slawsome
, which piles on cabbage coleslaw, miso glaze and (for good measure) a poached egg.
But down road two is the build-your-own burger menu. To create your masterwork, you'll have nine meats at your disposal, including Kobe beef, buffalo and a ground blend of sirloin and bacon. Then, you'll top that with your pick of 12 cheeses (brie, cream cheese, etc.), 20 sauces (including herb rémoulade and 10 different aiolis) and an extras menu with everything from summer truffle to foie gras.
Then, the grand finale: a
Blueberry Panshake
, the result of throwing some blueberry pancakes in a blender with milk, maple syrup and ice cream. If you ask nicely, they might even splash in some vodka and macadamia nut liqueur.
Go ahead: ask nicely.