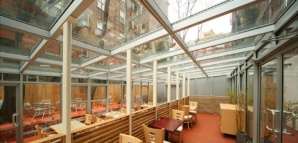 Manhattan's seen a lot of barbecue in the past few years, but there's always room for more. Especially when you're bringing a whole continent into the mix...
Following the confusingly named lead of
Bar Blanc
and Bar Boulud, restaurant
bar Q
is opening its doors in the West Village—boasting a deluxe raw bar, alcoholic bubble tea and more than enough Pan-Asian pork to keep you busy through the summer.
As the name suggests, barbecue is the main event, but this spot switches it up from Southern (fried pickles) to Korean (house-made Kimchee) to Malaysian and Thai touches, along with a tea-smoked duck breast that defies geography.
The star of the show is BBQ-obsessed Anita Lo, who's been dreaming up this spot for the better part of a decade. Her pork-heavy menu is full of eye-catchers like the
Stuffed Spare Ribs
(either a spring roll with pork instead of dough or a spare rib with greens instead of bone) and the Momofuku-esque
Spit-Roasted Pork Belly
, along with more subdued items to satisfy the pork-averse.
The interior is soothingly white, but if you're after a more rustic locale try the glass atrium in the backyard, designed by Momofuku minimalist Hiromi Tsuruta. When the summer kicks in, you may want to venture even farther back to the open-air patio.
But let's not get ahead of ourselves.