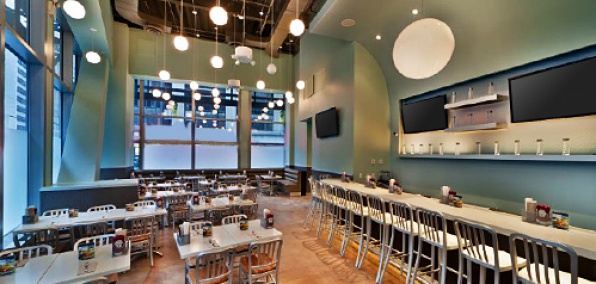 Today: we bring you a brand-new burger.

Tomorrow: we bring you another brand-new burger.

And every day for the next 312,120 days: brand-new burgers.

Introducing The Counter, a just-opened Midtown spot where you're the all-powerful burger god, and the space between two buns is your universe, open for previews now and to the public on Monday.

Basically, this is a build-your-own burger joint taken to the 11th power and the seventh factorial. So, appropriately, it's located in that quaint section of the city known as Times Square. You'll look for the wraparound LED ticker that's displaying current custom burger trends. Apparently, Tillamook cheddar is trending up right now.

Inside, you'll immediately be greeted with a warm salutation. A clipboard. And a mini golf pencil. In your hands: everything you need to create a labor of lunch.

So you'll furiously work through the extensive checklist. Mulling sauce options like hot wing and ginger soy. Scribbling potential toppings to pair up with applewood-smoked bacon (guacamole, of course). And creating makeshift Excel spreadsheets to determine the benefits of sticking the entire thing on an English muffin.

Once you've found a solution (you'll get partial credit for showing your work), it's time to select something to wash it down with. Good news: they have malts. Better news: they have a full bar. Best news: they encourage you to combine the two.

And you've yet to try a chocolate shake that wasn't vastly improved by dark rum.