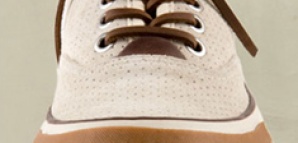 In case you haven't heard, life in '60s California was pretty good.

And the best way tore imagine the pleasures of that era is obviously through your feet. Step into an extremely rare pair of SeaVees, now available at Fred Segal Feet.

Just 356 pairs of the shoes have been made, in a total of four different styles inspired by California legends from the '60s—Steve McQueen, Brian Wilson, Charles and Ray Eames, and the Porsche911. (Better luck next time to The Mamas and the Papas.) Each style is known by a four-digit month/date formulation coinciding with a related banner event—the canvas slip-on 05/66s take their inspiration from the debut of Wilson's Pet Sounds, and the retro canvas 10/68s refer to the premiere date of Bullitt.

But our favorites are easily the perforated suede 01/68s, with leather lining and laces...even if the tale behind that date—which strangely credits director Billy Wilder for inspiring the design of a classic piece of mid-century furniture—is a bit convoluted for our taste.

Still, if the shoe fits...