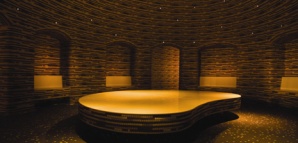 If your Vegas nightlife routine has been getting a little trite lately, consider taking things somewhere a little steamier and less encumbered by clothing.

Re-imagined as only Vegas can do, the traditional Hammam at the Drift Spa is anything but—the 50,000 square foot spa at the Palms Place condotel opens Vegas's first and only co-ed social hammam.

Enter the oblong, meticulously tiled cave from separate-but-equally poshmen's and women's spas, and linger amidst heavy steam (infused with ginger and lemongrass scent) as dappled light sneaks in from the domed ceiling. Take your sprawl on heated stone benches that surround a low, central stone island at the heart of the cave. Somewhat disappointingly, clothing is mandatory—albeit skimpy (and rules, after all, are made to be broken). The space is minimalist and steamy—all you need for a little detox, sweat and co-ed mingling without the usual props of cocktail glasses and pants (which, let's face it, just get in the way sometimes).

After your fill of steaming, you might take a trip with your new friends through Drift's classic sauna, or take a dip in the hot tub or cold plunge pool.

You may need it...