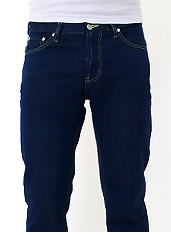 It's pretty simple stuff: when your pants come off, the world improves.
And the same is about to be true when you put them on...
Introducing some soft, lean and globally conscious new jeans from the LA-based collective
Industry of All Nations
, now available for your lithe and supple lower body.
First: we know. At last count, LA had about 87 million denim lines, give or take. But these are different, and not only because they actually look pretty good.
Unlike most jeans manufacturers, who use harsh chemicals that damage the environment, these guys take six months to turn a pile of organic cotton into an eco-friendly finished product—the kind you'll want to wear the next time you're pitching a green-minded startup in Silver Lake. (Or just when you're grabbing some coffee.)
The green hook: they're dyed in India using plants, dirt... and a weird-but-natural resin that bugs there leave behind on tree branches. The result: jeans in 10 colors, from brown (dyed with mud) to three different jean-colored blues (you love the color "jean"). And more importantly: zero contamination for the world around you.
Unless, of course, you're still shopping by private jet...