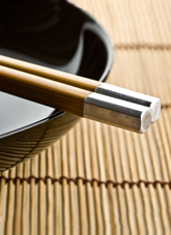 We've got a Chinatown that rivals China.
And delivery that runs like clockwork.
So you could say that access to Chinese food is not a problem.
But sometimes you need a little more.
And by more, we mean opulent ambience, potent cocktails and a kitchen that's open until 1:30am.
Introducing
Pudong
, a sultry new temple of Shanghainese food with a French brasserie slant, open now in the Castro.
Sort of like a throwback to Shanghai at the turn of the 20th century during the French Concession—you know, the usual—Pudong will be your mecca for the junction of Chinese fare and Parisian style, with a healthy dose of martinis thrown in the mix.
The stark concrete exterior adds an air of mystery—like stepping into an unmarked SoMa nightclub—but the reality of the opulent interior couldn't be more opposite. Walk over the marble-floored entrance to the circular bar, where you'll start with some French 75s before settling into one of the secluded U-shaped booths.
And don't let its non-Chinatown address or the French cabaret interior dotted with red velvet drapery and crystal chandeliers sway you—the focus is Chinese first, with dishes like
Mongolian Lamb
and
Red Chili Prawns
, plus a bit of French charm like
Beef Bourguignon
.
A little French charm goes a long way.