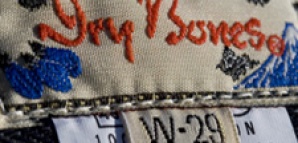 If you've been searching for '50s rock-inspired Japanese denim (you know you have), look no further.

Dry Bones, the Land of the Rising Sun's equivalent of Levi's, has been around for 20 years—but is now available stateside at its exclusive U.S. carrier, Self Edge in the Mission.

Dry Bones mixes in a bit of class with its garage-punk style, and weaves Japanese themes into its raw denim—the hefty14-ounce per square yard fabric isn't washed, so its ultimate look depends on how the wearer breaks it in. The selvage's symbolic Japanese details run from purple and pink thread (to represent soy sauce and ginger), to green pocket linings (green tea), just in case you get hungry while you're breaking in your new jeans. And it's all made on looms from the'50s, which adds that extra vintage flavor to match your taste in music.

We especially like the straight-leg Guitar WolfJet Jeans with hidden rivets and thunderbolt seams, the result of a partnership between childhood friends (president of Dry Bones and members of Guitar Wolf, a Japanese '80s band). The Red-D Slim is a relaxed slimfit co-designed by Self Edge owner Kiya Babzani, getting a local designer into the pan-Pacific mix (fifty pairs hit Valencia Street a few weeks ago and only three remain).

Sounds like a hit.