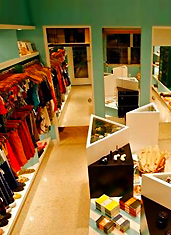 There are quite a few things you prefer over shopping.
Sipping champagne. Playing ping-pong. Discussing the latest Franzen novel with Dolphins cheerleaders in a hot tub.
But the fact still remains: you've got some gifting to do this season, and you're going to need an interesting place to do it.
Here to assist you: the
OHWOW Pop-Up
at The Standard, a new shop chock-full of quirky items to guarantee your Secret Santa present won't get re-gifted, now open.
So here's how we see this playing out: after a chicken panini at The Standard restaurant (and maybe a quick stop by the hotel spa's coed steam room…), you'll step into this boutique on the ground floor, which sort of looks like a hotel gift shop crossed with a downtown NYC bookstore (no, not Borders).
All the stuff has been curated by the guerilla artists from OHWOW, so you can expect to find pieces you've never seen before—things like limited-edition coffee table books of hip art shows, Christmas tree ornaments designed by Asian graffiti painters and a vibrator shaped like a rubber duck (we hear it's the one).
And if the person on your list is more beach-oriented, there are towels by Jasper Johns, sunglasses by way of Milan and plastic jelly shoes from Brazil.
Brazilians know their jelly.