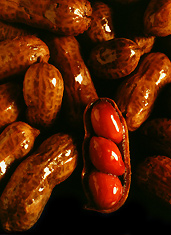 This time of year, your mind (and stomach) naturally ponders the art of the home-cooked meal.
Turkey. Maybe some cranberry sauce. And, of course, that most traditional of holiday dishes: grits.
But you shouldn't limit your indulgence to December. What you need is someone to send you home cooking year round. Preferably, someone from south of the Mason-Dixon…
Which brings us to
The Southern Food-of-the-Month Club
, a yearlong tour of the finest delicacies the South has to offer, taking orders now.
Here's how it works: you'll sign up on their
barebones website
, and then be rewarded with a monthly package containing the kind of heart-stopping homemade concoctions only the South would dare create.
Your guides on this culinary tour: a pair of boiled-peanut-tycoon brothers from Columbia, S.C., which should give you some idea what you're in for. There are grits and Moon Pies, sure, but also more obscure treats like whole-fig preserves and Cheerwine—a cherry soda that's been doing brisk business in the Carolinas (and only in the Carolinas) for almost a century. (Your next gimlet will thank you.)
But back to the boiled peanuts: they're best fresh from the pot, so the brothers will send over a how-to kit and let you simmer them up for yourself, as salty and as mushy as you like.
Warning: you might develop an accent.