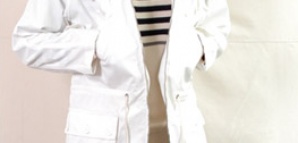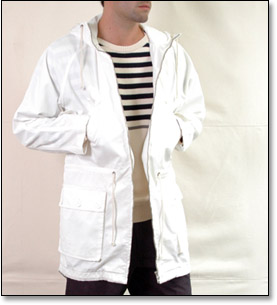 The clothes, it's been said, make the man.
And while that's not all that makes a man, a shot of style here and there is certainly a good thing. Introducing
Bureau
, just taking off.
It takes a lot of brass to say your spring line was inspired by "the off-duty lifestyle of our 35th President," but Bureau designer Cory Gomberg pulls it off by keeping the line young and trim with a hint of "happy birthday Mr. President..." Think of the collection as resort wear without the cheese—60's American jetset meets The Graduate (yes, Mrs. Robinson will love you).
But just in case you think this is going to be some out-there concept line, we're here to assure you that it's instantly wearable, and great for the casual office or the not-so-casual cocktail den. From the poplin Tack Short and cotton Skipper Sweater to the lightweight Regatta Parka, all the items in this line keep it simple while adding in one design twist—like sail cloth stitching on the Regatta Parka.
It's the kind of gear that's reliable, but never boring.
Sort of like our 35th President...