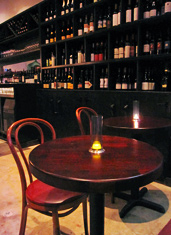 Things are crazy this week.
The traffic on the causeway. LeBron dropping 38 on the ex. Lance Armstrong's karaoke parties.
What you need this weekend is an under-the-radar hideaway. You know: a place nicely positioned near all the hoopla, but cozy enough to stow away with a date over glasses of Slovenian and Lebanese wine.
Say hello to
Blue Piano
, a new bohemian music lounge and wine bar pouring you rare vino, now open in Buena Vista.
This place feels a little like a neighborhood wine bar in Buenos Aires, complete with a polished wood bar, candlelit tables and flamenco music set to just the right volume. And if you sneak in here with a date after 10pm—which we recommend—you'll find a Billy Joel type tickling the ivories of a small piano (ironically, it's not blue) with everything from Spanish classics to Elton John.
Settle in at a small wooden table and start with a few dry whites from Austria (the wine selection was put together by the former sommelier at Fratelli Lyon). Pair it with platters of cured meats, cheeses and arugula salads. And if beer's your thing, there are five microbrews, including a Blue Point Rastafa Rye Ale out of New York.
 Always order anything with "rasta" in it.