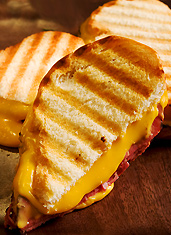 It's been a long time coming.
You've been deprived for too many years.
And after praying nonstop for a permanent grilled cheese truck to be put into your life, it seems someone upstairs was listening.
And by someone, we mean the owner of a soon-to-open food truck...
Introducing
Roxy's Gourmet Grilled Cheese Truck
, parking itself at the corner of Beacon and Chestnut Hill in Cleveland Circle beginning next week, and dedicated to bringing more heavenly grilled cheese into your daily life.
So imagine: you emerge from the T this winter and you're feeling the bite of the cold wind blowing off the Chestnut Hill Reservoir. You tighten the warm embrace of your cotton/poly/tweed Bruins scarf, step up to the truck and order a
Mac and Chorizo Melt
(mac and cheese, Portuguese chorizo, cheddar). Then, you chase it down with a
Sweet Dreams Melt
(goat cheese, candied bacon, apple... hold the Eurythmics).
You can get them on everything from sourdough to brioche (both baked daily in Cambridge), and for some added local flavor, you'll want a side of fried Grillo's pickles with habanero beer cheese sauce (thereby landing three of the major food groups: beer, cheese, pickles). For dessert, go for the
Grilled Cheese Cake
: pumpkin cheesecake on grilled apple crumb cake (you have a little drool hanging off your lip).
And keep your ears peeled, because in the coming months they plan to have a DJ spinning on weekend nights.
No, there'll be no cover.