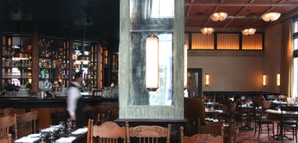 Something is stirring in Tribeca. You've heard about it, maybe even seen it in movies, but it's time to get a closer look...
Ten years after bringing a taste of Manhattan to L.A.,
Ago
is moving east, into the comfortable confines of the not-quite-open Greenwich Hotel.
Opening tomorrow, Ago is the restaurant portion of Robert DeNiro's longtime Tribeca project. The food is the classic North Italian fare made famous out west—that means signature pizzas like
Pizza Prosciutto di Parma
, fresh from the wood-burning oven, and traditional favorites like
Costata di Manzo
.(That's Italian for ribeye.)
But the décor—think
Gemma
with fewer candles and hipsters—may hold more of your attention. Leather booths mix with rustic wooden chairs, red terra-cotta tiles, exposed beams and pock-marked glass chandeliers for a provincial but upscale vibe. If you want even more rustic charm, we suggest you grab a seat near the fireplace in the back room with a view of the courtyard. Otherwise, your food may suggest the Italian countryside with the oh-so-pleasant view of lofts and loading docks.
Of course, not everything's the same as L.A. The man in the kitchen isn't Agostino Scandri, but executive chef Mirco del Vecchio, a recent transplant from Italy. And Mirco seems to have brought his staff with him, so don't be surprised if you hear the waitstaff conversing in his mother tongue.
Think of it as Big Italy.