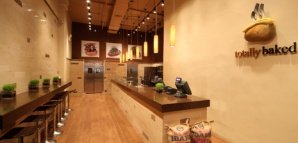 Trends come and go. Gimmicks get tired. But the potato... is forever.
Welcome to
totally baked
, a lunch spot devoted entirely to the art (yes, you read that correctly) of the baked potato.
The specialty here isn't the crusty cheddar-and-sour-cream laden creation you're used to. In fact, far from it: Your potato will pile up about four inches high, and half of those inches will be toppings, so don't plan on eating in transit. To get started, upgrade the tired cheddar to a more subtle manchego, and switch out the sour cream for some black-bean-and-salsa salad. A little bacon's nice, but a little grilled steak is even better...and now you've got yourself a meal.
On the sweeter side, you can turn to... a sweet potato, as in the
Sweet Potato "Pie",
an orange spud pressed into its skin, covered with marshmallows, drizzled with maple syrup and sprinkled with nutmeg and spiced pecans. Or better yet, try out the sweet potato ice cream—think frozen pie filling—in nicely portable 8 oz. containers courtesy of
Soco Creamery
.
But the crown jewel is the
Famous Truffle
, a splitspud soaked in truffle compound butter, truffle oil, and truffle salt with a sprinkling of truffle shavings over the top. It'll set you back$55, but that's a small price to pay for the richest potato in town.
Just like the saying goes, good things come in potatoes.