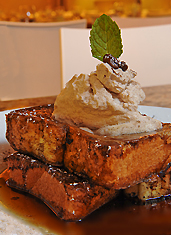 French toast.
For years, it's served your hangovers well, and you thought you'd never see the day when the stuff would amaze you all over again.
But we're here today to tell you: get ready to be amazed.
Introducing
Irish Coffee French Toast
, an unapologetically boozy breakfast offering that takes everything you love about Irish coffee and, well, makes french toast with it, available during brunch at Stella starting this Sunday.
So the next time you rise from bed after a typical raucous Saturday night and find yourself needing: a) some hair of the dog, and b) something hearty to soak up all the beer and Four Loko, this is your ace in the hole.
Because what you'll be facing here is a couple of slices of brioche bread the size of the stone tablets Moses carried down from the mountaintop (okay, they're about an inch and a half thick) slathered in a wash of Irish whiskey, egg, vanilla, butter and ground espresso, which are then seared to french toasty perfection.
Dropped on this: a thick bomb of whipped cream made with heavy cream, whiskey and coffee (so to recap: that's whiskey, coffee, and more whiskey and coffee).
And then the final touch: pure Vermont maple syrup that's been house-infused with (you guessed it) more Irish whiskey.
It's basically what lumberjacks in Dublin eat every morning.