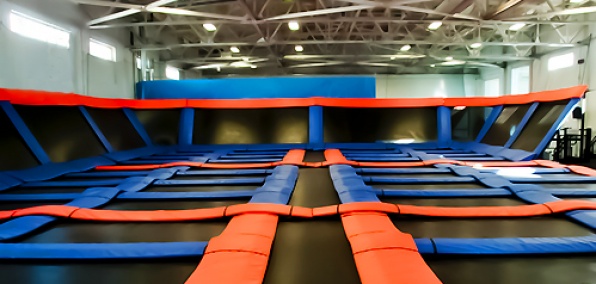 Think hard.

Think about your one go-to in the city for wall-to-wall trampolines.

We know. Nothing, right?

Well, get ready to jump at Sky Zone Boston, your one and only adult playland that's basically a collection of interconnected monstrous trampolines under one giant roof, opening this Saturday in Hyde Park.

If Tom Hanks's character in Big stayed in the adult world long enough to become some kind of commercial fun-zone developer, he'd create Sky Zone. (He'd also create Piano Zone, the playland of oversize keyboards, but that's not important right now.)

So come Saturday, you'll head in here for a 30-, 60-, 90- or 120-minute session. You'll throw on a pair of Sky Zone's specialty high-tops (think Olympic wrestler high-tops, but, you know, for bouncing). And you'll enter the vast landscape of stretchiness, ready to learn the pastime of kings (and by kings, we mean Cirque du Soleil acrobats).

At first, you'll want to just bounce around and get your legs. Then, you'll move on to Trampoline Dodgeball (it has its own area). If you're more of a group jumper, there's also SkyRobics (think spin class, only... higher).

And as with any athletic endeavor, the more you practice, the more awesome you'll get. Before long, you may find yourself becoming a regular—flipping around like a stunt double for Darth Maul.

Or at least his stunt double's stunt double.