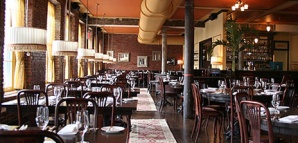 Old is the new new.

At least according to Sascha Lyon (and wife/partner Latoya), who want to bring you a little less 2006 and a little more 1926.

Sascha, opening tonight, is an old New York three-in-one bakery, brasserie, and fine dining establishment, housed in a historical building in the MPD (apparently there's still space).

Hit up Sascha when you feel like a return to simpler times, from the old-fashioned glass bakery counter (where you can pick up pies and pastries) to the gangster-glam upstairs whose rounded leather clubhouse banquettes would've hosted whiskey-filled conversations about knocking off Joey the Whale.

The main floor's Gansevoort Bar is where the liberal gals with their cigs and fringed skirts might have hung, most likely at the 100-year-old mahogany bar. Downstairs is a cozy brick-and-mortar private glass encased dining room (seating 25), in what used to be a coal bin, featuring exposed sidewalk concrete in the ceilings—and really, you've never truly dined in New York until you've dined in an old coal bin.

With an old-school, unpretentious vibe like nowhere else in NY and superb classics like Grilled NY Strip, Fried Chicken and a Double Cheeseberger on the menu, Lyon is sure to show neighbor Pastis that Americans can do the hot brasserie scene just as well as, if not better than, the French.

And minus the faux accents, existentialist philosophizing, and the persistent need to call fries "pommes frites."