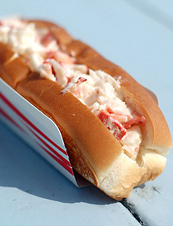 Consider the life of a lobster in 2010.
He's hanging out off the coast of Maine, flexing his claws for the ladies, and then suddenly he's whisked off on a plane to LA, where he finds himself... on a food truck.
Now, even for lobsters, it always comes back to the food trucks.
Introducing the
Lobsta Truck
, stocked with fresh, never-frozen crab and lobster flown in from New England three times a week, now quietly rolling on our streets.
Basically, this is your chance to finally bring a bit of prime East Coast seafaring to your next West Coast commute home. And after you've
found its location on Twitter
, it won't be hard to spot this truck on the curb―it's red, with a giant white lobster on it. (A boat would've been cumbersome on Sunset.)
The menu's short and sweet―
Lobsta Rolls
and
Crab Rolls
(on a split-top roll, with just a bit of mayo or butter), and
Clam Chowder
by the cup or pint. (That one's pretty authentic too, except for that inexplicable "er" at the end.) Throw in a whoopie pie and some Cape Cod chips, and suddenly Venice feels like Nantucket.
A very muscular, very tattooed Nantucket.