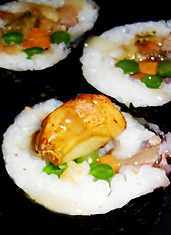 We've got nothing against turkey.
Mashed potatoes, stuffing: fine, fine things.
We just wish they were a little less… traditional. And a little more… seaweed-y.
Introducing the
Thanksgiving Sushi Roll
, an all-encompassing bundle of everything the season has to offer, available off the menu at Wazuzu next Thursday.
It's pretty much exactly what it sounds like: all the elements of your standard Turkey Day spread, wrapped inside a humble roll of sushi.
The magic starts with the building blocks of any good roll: a bed of rice and a nori wrap. Then, one after another, chef Jet Tila piles on the essentials—roast turkey, gravy, stuffing… and, okay, some non-essentials like butter lettuce, asparagus and daikon sprouts. Then he rolls the whole glorious stack into a huge bundle and slices it up over mashed potatoes and even more stuffing. In short, everything but the pumpkin pie—which, now that we think of it…
Of course, a dish like this is too awe-inspiring to leave out in plain sight (or on the menu), so you'll have to ask for it by name—preferably as quietly as possible.
The pilgrims would have wanted it this way.