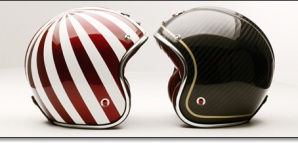 The journey, allegedly, is far more important than the destination.

So as you continue down your road less traveled, your protective gear could use a bit of iconic Parisian flair—like an AteliersRuby motorcycle helmet.

Like all truly revolutionary Parisian wares, these stylish, chinstrap-free helmets were inspired by...Steve McQueen. (They don't make them like they used to, even in France.)The carbon-fiber shells have the finest aerospace technology to thank for their ability to remain remarkably lightweight while retaining all necessary skull-protecting properties—and inside, Nappa lambskin is suitably luxurious to exist in such close quarters with your prized head of hair. But even before you arrive, your admirers at the curb will recognize the origins of this cranial cocoon by its chrome-plated trim and knight-like signature crest.

To supplement your choice of black, white or the fearless number emblazoned with red and white stripes, designer Jerome Coste realized you'll also need a twill scarf to complete that Easy Rider look—we especially like the black-and-white checked choice dubbed "Victory." He also had the foresight to authorize just one shop in the U.S., a roaring Hollywood biker den, to stock his cosmopolitan wares.

Just think of it as one very important stop on your journey.