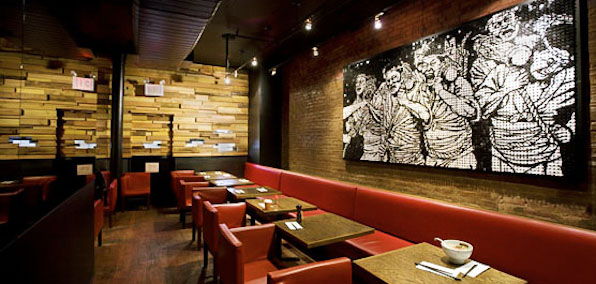 The East Village has seen a long, hard ramen war—and it's showing no signs of slowing down. In fact as of today, it just got a little more international.

Shigemi Kawahara has spent the past twenty three years building up a ramen empire, and he's about to show New York how they do it in Hakata. Welcome to Ippudo, the first U.S. outpost from Japan's ramen king, soft opening today.

It'll only take a few steps in the door before you realize this isn't your typical East Village ramen spot. The reception-area bar lets you sample some sake cocktails before you head in for the real show: a bamboo "tree" running from floor to ceiling in the main room. There are two communal camphor-wood tables and a noodle bar if you want to get to know your fellow ramen lovers, or head to the white-leather-and-glass booths in the back for a little more privacy.

If you want to get even more private, head for the red booths in a nook in the far left corner—or rent the whole thing out, curtain it off and stage your own personal noodlefest.

Ippudo made its name in Japan by popularizing Hakata-style ramen—meaning the noodles are in a rich, pork-based broth that simmers for fifteen hours. If you want an extra kick, you can add some secret sauce at the table.

As for what's inside the sauce, only the ramen king knows...