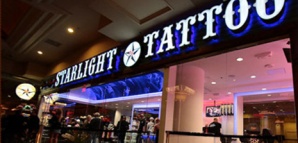 There are moments in each of our lives when we have briefly—and most likely drunkenly—contemplated permanently inking our skin.

For your next moment, no better city says "weekend impulse tattoo" than Vegas and no other spot will do than Mario Barth's. This week, the celebrity inkster (whose hands have needled the likes of Lenny Kravitz, Ja Rule, and Pamela Anderson) opens his sixth Starlight Tattoo behind the House of Blues in yet another oddly working combo that only this city could pull off.

On some level, it's a tattoo parlor like any other—sterile white walls, track lighting and requisite gruff staff. But what Starlight has going for it is something not immediately visible upon entering the tiny spot. World renown as the industry's "foremost trendsetter" has yielded Barth some enviable contacts in the tattoo world (yes, there's such a thing).

You can still choose from Barth's extensive collection of over 10,000 pre-drawn images, but the real deal is when Barth imports special guest artists monthly, such as Japanese master Hori Toshi I and Samoan master Sulu' Ape Pili Mo'o (who clears a space on the floor and performs traditional Samoan hand tool tatua, almost a religious ceremony). It's as close to religion as you'll find in this town.