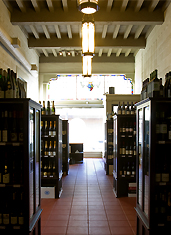 Who or what you worship is your business...
But you've been known to get awfully reverent around wine bottles.
So you'll be pleased to know about a new hideaway that feels like a church of wine―introducing
Monopole
, a shop, bar and webstore dedicated to getting you your wine by any means necessary, soft-opening tomorrow.
Step into the soaring shop hidden in an old 1927 building, and you'll see what we mean. The cement walls are 25 feet high, the bottles are illuminated by giant pendant chandeliers from a church in Laguna Beach, and... there's no shrine at the back, but there is a gleaming underlit bar. (Cue the choir of angels.)
So if you're just here to pick up a few bottles for your collection back home, it's old-world wines on the left, new world on the right―and you can get something good for less than $30.
But if you can't wait till home, grab a stool at the bar in the back, where they'll always be pouring a dozen or so wines by the glass—or they'll open the bottle you just bought.
And if you don't feel like schlepping to Pasadena, they'll also have everything for sale in their webstore.
But come on, go to Pasadena.