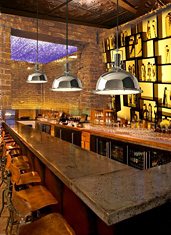 You go to the Design District for many things.
Wine. Furniture. Nutella Pop-Tarts.
But starting this Thursday, you'll be able to go for something you've never experienced there before: live jazz. Also: bourbon punch.
Say hello to
The Stage
, a New Orleans-style music hall and cocktail lounge, soft-opening this Thursday with a slew of concerts slated for this weekend's Miami Music Festival.
Think of this as the kind of sprawling music club you'd find on Bourbon Street, complete with a massive stage for hosting local rock and jazz bands, an outdoor courtyard filled with plantlife and couches, and a polished cement bar with fedora-clad bartenders sliding you mint juleps and
Bourbon Milk Punch
(it does a body bourbon).
You'll come here around 11pm to check out local troubadours and DJs, and also when you're in the mood for a nightcap after dinner at Sra. Martinez (it's a few blocks north). They'll even be doing some screenings of documentaries and holding the occasional poetry slam (it's the perfect spot to unveil your haiku to bacon).
And in a few weeks, they'll be rolling out a food menu stacked with N'awlins classics—think jambalaya, beignets and layered sandwiches called muffulettas.
We're pretty sure it's Creole for "hoagie."