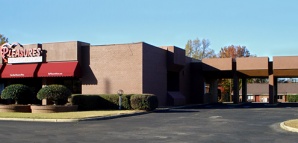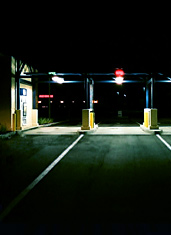 It's a quarter past three in the morning.  
The night, by all accounts, was a rousing success.  
Slightly debauched, somewhat bizarre and, as is often the case, ending with you and a
Deal or No Deal
model behind the wheel of a 1980s Ford Mustang in Huntsville, Alabama.
So, naturally, you'll want some late-night drive-thru.
And by drive-thru we mean sex toys.
Introducing
Pleasures
, the first and only establishment in the country serving up carside Happy Meal toys of the adult variety, just opened yesterday in Huntsville, Alabama.  
Consider this yet another reason (along with Antoine Dodson's house and the country's biggest jet rocket propulsion research center) why Huntsville just passed Palm Springs as your holiday destination of choice.
So after you've logged some hours in the lunar lander simulator and been debriefed by NASA, perhaps curiosity will lead you to arrive at the somewhat less-than-majestic brown brick former bank. Here, you'll notice a lack of fryers, a grill or a playland with a ball pit (which seems like a missed opportunity).  
Instead, the menu (which looks like a fast-food option board) is spotted with assorted paddles, oils and vibrators (the option to supersize is available), and a few combo items. The #7 with French tickler and cat-o'-nine-tails comes highly recommended.  
But you'll probably end up hating yourself for it later.