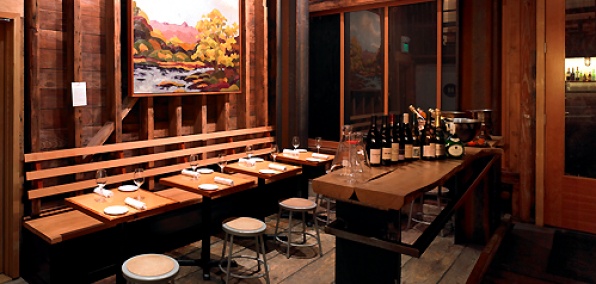 Dates tend to fall into categories.

The noncommittal coffee. The elaborate, no-holds-barred Saturday night.

Then there are those subtle game-changing ones that make a statement without trying too hard...

In that latter category: Dcantr, a rustic lair of a wine-obsessed restaurant and casual little brother to the upscale Michelin-starred Saison, opening tonight right next door.

It's the final, most low-key phase of the Saison dining continuum that'll serve as your trusted, no-reservations spot for a Saison-caliber night out, only in a barn-like locale where you might expect to see tobacco hanging to dry from the rafters. So, essentially, going to Dcantr is like having an upscale, indoor picnic with lots of wine, oysters and whole-roasted chicken or grilled rib eye.

It's housed in the restored carriage house that is Stable Café by day. But when you come in at night, all evidence of the coffee shop—milk jugs, baked goods and laptops—is swept aside and replaced with the good stuff: wine bottles and food prepped in Saison's wood oven or ember-flamed hearth (otherwise known as your dinner).

As for the wine, you can select one from the list, but this is your chance to whip up a wine of your own. Beakers and graduated cylinders are involved, but you just have to combine a single varietal like pinot noir by AVA one milliliter at a time.

Don't underestimate the allure of a beaker.