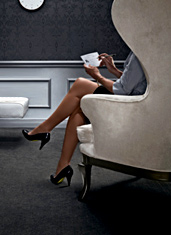 You're lying in a dark room with a beautiful French model, half awake, half asleep, totally calm.
Her soft voice lulls you into a trance state where fear becomes meaningless, lust for liquor seems silly, and everything is just how it was always meant to be.
Congratulations. You've been hypnotized by Maeva Althaus, a delicate brunette/vicious runway model raised on the shores of Normandy, educated at the Sorbonne and now running
Hypnosis by Maeva
at her SoHo studio.
Now keep in mind that Maeva is not one for swinging pocket watches, and she has no intention of making you cluck like a chicken. "Hypnosis is not what you think it is," she'll explain, before launching you into a wildly mellow trance-like state.
Through the power of direct suggestion to your subconscious mind (asking nicely works for us, but we'll play along), she'll get you to quit smoking, speak with confidence in public and pursue lust without fear or hesitation (and not just on the weekends).  
Like all the best medicine, this takes some time to administer, so prepare to spend upwards of two or even four hours wrapped in soft cushions on Maeva's therapy table. Fortunately, listening to her deep French accent is more soothing than Enya on shuffle.
Just remember, what happens on the therapy table stays on the therapy table.