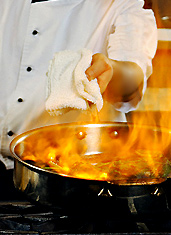 Lunch.
An unpredictable journey.
Some days it leads back to your office, meatball sub in one hand, phone in the other, and the future of your company balanced in between.
Then there are those other days. You're in the kitchen of some hotshot chef, belting back one of his favorite whiskeys, previewing the dinner specials and sending all calls to voicemail.
Tipping the balance in favor of the latter:
Flight Chicago
, your new backstage pass for private, late-afternoon lunches hosted by a few of this town's best chefs, launching today.
Log on to the website, choose your destination, and you're ready to go. Each day is a different neighborhood. So say it's Wednesday. You'll head to West Town and show up in front of Branch 27. Chef John Manion will greet you, give you a tour of the kitchen and treat you to his "Little Shop of Horrors"—the downstairs butcher shop, where you'll see how a pig becomes a chili-rubbed cured pork tenderloin. Then you'll eat said tenderloin. Maybe with a beer. Maybe a whiskey. Maybe wine.
Then you'll head to Green Zebra. And repeat. And finally wind up at Mexique. And repeat. Again, pairing with whatever the chef's whim dictates.
Never argue with the whim of a man with access to meat cleavers.