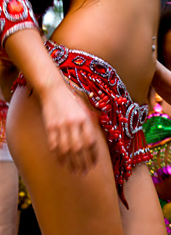 Ah, Carnival.
Booze. Outlandish costumes. Wild beats and island-ish music.
In a perfect scenario, there would be one happening in town this weekend.
Better scenario: there is, and we've got you on the list.
Presenting
Carnival Night
, a massive invite-only bash going down this Saturday in the old Club Pearl in the Theatre District, now accepting RSVPs.
First, let's explain what's going on here: this is the first of a series of themed, invite-only blowouts at Pearl before it starts getting turned into the forthcoming Guilt Club (actual name, not how you'll feel there).
For their first one, you'll want to sharpen your Capoeira moves and, more importantly, adorn yourself in Carnival attire—anything from a simple mask to full Trinidadian shirtless-ness, face paint and armbands (tip: no costume, no entrance). Then, head inside Pearl, where you'll be hit with a wall of Carnival sounds and '80s music (Corey Hart = street party), to say nothing of decor straight from the real Carnival, courtesy of a film set production crew (good news: they did not work on
Brazil
).
And over the next few weeks, the parties and decor will change, including one that'll be a full
Star Wars
theme.
Here's hoping you don't go home with a Jawa.
Note:
Carnival Night at Club Pearl, November 13, 10pm-2am, <a target="_blank" href= "mailto:ricardoandale@gmail.com">RSVP here</a> and mention UD to get on the list