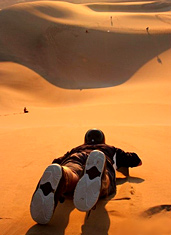 You're well acquainted with the desert.  
The rolling dunes. The punishing heat. The raw drama of 
Ishtar
.
Also: the slopes practically begging for a toboggan...  
Welcome to
Swakopmund Sandboarding
, a 50-miles-per-hour thrill ride down a 300-foot-tall dune in Namibia, taking reservations now.  
Think of it as snowboarding, surfing and luge rolled into one—but instead of a ski slope, a wave or a luge track, you'll be riding down a mountain of sand known as Star Dune, with just a plank of particle board between you and the baking desert.
First off... you might want to stretch. You'll start in the bustling metropolis of Swakopmund, then take an early-morning drive to the largest dune in sight, just a few miles inland from the Atlantic coast. From the top, you'll be able to see all the way to the ocean—and since you chose one of the more temperate deserts in Africa as your proving ground, you might not even break a sweat. (But maybe pack your "West Africa Rocks" headband just in case.)
For your dry run, you might want to start standing upright on a formica-bottomed snowboard, which will let you do a bit more carving on your way down—and stay on your feet the whole time. Then you're ready for a luge-style run on that eight-foot masonite plank, which you'll ride belly-down, at a speed of up to 50 miles per hour.
It's best to keep your mouth closed.