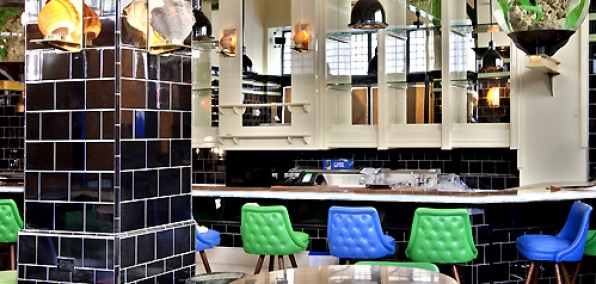 It's three in the morning on the mean streets of NoMad, and that means one thing:
The night is young.
Also, time for shellfish.  
And maybe some sparkling wine on tap.  
It's time to make friends with the new
John Dory Oyster Bar
, open this weekend for late-night seafaring and cocktails in the Ace Hotel.
Now, if the name sounds familiar, it's because this is the second coming of John Dory, the upscale seafood spot from the folks behind the Spotted Pig and the
Breslin
(Ken Friedman, April Bloomfield, Jay-Z... Bette Midler). But instead of white tablecloths, you'll find yourself immersed in an old-school oyster bar flanked by two massive globe fish tanks, surrounded by black tiled walls and standing on a floor from 1904, ready to witness some shucking until the clock strikes four in the morning.  
Pulling up for your last stop of the night, you'll find yourself in a swirl of late-night energy and shellfishing, with fellow oyster lovers sipping Sasha Petraske's (Milk & Honey) cocktails and lounging on bar stools (there are no chairs, only stools in here) at copper countertops ringing the floor-to-ceiling windows.
And if the night calls for a little intimacy, both with the chef and 11 of your closest friends, you'll want to claim the secret table in the basement kitchen.  
Where all the seafood is just a few seconds fresher.