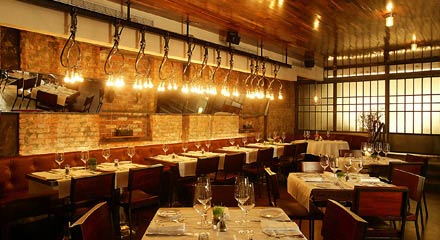 It's a simple formula, people.

Meat + hash browns + creamed spinach = steakhouse.

Easy to understand, nearly impossible to master.

The latest carnivore's den, just opened last night, is Quality Meats. Direct from the Smith & Wollensky brain trust, it's a modern steakhouse from some folks who know a thing or two about turning meat into mouthwatering steak.

Let's Talk Meat
First things first. With beef from Milton Abeles and Strassburger Meats, two of New York's oldest and finest butchers, you're in good hands. We loved the bone-in Sirloin and the Three Filets (three petit filets prepared Wellington, Au Poivre, and Oliver), and couldn't get enough of the house steak sauce (made from scratch tableside). Veer off the beaten path and try the Japanese white sweet potatoes and the creamed corn brulee or stick to basics and hit up the tartare and the creamed spinach souffle. Homemade ice creams (pistachio, wild blueberry, coffee and doughnuts), while unfortunately not made of meat, are unreal nonetheless.

Details, Details, Details
From the old-school butcher coats on the waiters and bartenders to the white tiles and dark woods on the floors and walls, it's immediately clear that Quality Meats is a serious steak joint. Then you look a little closer, and the details of the space (designed by AvroKO) come into focus—a charcuterie bar in place of a raw bar, exposed light bulbs that look like they came right out of Thomas Edison's workshop, floor-to-ceiling wine racks used to separate rooms, and oversized stemware built for massive reds.

Heaven? We'll meat you there.