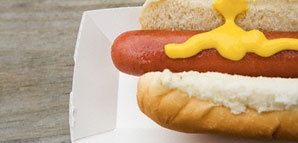 The wisest dining connoisseur adroitly balances the cutting-edge with the traditional.
So to offset all the
of-the-moment
new
restaurants
of
late
...sometimes a man just needs a little boardwalk food. Even if it's in Beverly Hills.
Welcome to
Marty D's
, the new home of the 8-inch hot dog.
Film-industry vet Marty Davidson gets his prime meat from an ancient but secret vendor in Brooklyn and grills it up over sizzling lava rock, before dropping it onto an onion and poppy seed bun for your beef-related enjoyment. You can get it over the old-fashioned counter or at one of the outside tables—on one of the area's more populated sidewalks—in case you like a little bit of scene to go with your dog.
If you're looking for something a little more cooling—or if your lady friend has developed a sweet tooth—there are malts from the restored soda fountain, an
Old-Fashioned Banana Split
or
The Works
, a huge glass bowl filled with every dental-negating ingredient imaginable.
The genesis of all this: Davidson's infamous annual cookouts, which were attended by friends like
Little Dom's
proprietor Warner Ebbink who encouraged him to aim bigger than his backyard.
In dreams as in hot dogs, size matters.