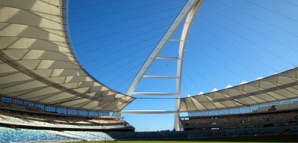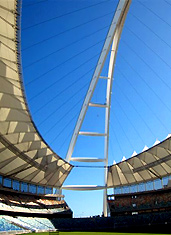 You've seen some crazy things at this weekend's Halloween parties. 
A waterslide through Dante's nine circles. A haunted bounce house with "sexy Ghostbusters."
But none of them had a 350-foot-high bungee swing.
Welcome to
The Big Swing
, a giant bungee leap through a World Cup soccer stadium in South Africa, now available.
The setting is Moses Mabhida Stadium, which was recently filled with 60,000 vuvuzela-blowers. It'll be slightly less crowded when you show up—you'll find a platform at the edge of the dome, 350 feet above the ground. The good news: that's where you'll be jumping from. The better news: thanks to a bungee cord attached to the center of the stadium dome overhead, you won't be hitting the ground.
After a little waiver-signing, you'll climb up 500 steps on the stadium's outside arch. (Common wisdom decrees you shouldn't look down.) Once you reach that platform, they'll strap you into the swing attached to the cord—and you'll plummet over the field, buzzing the center mark at a speed of up to 75 miles-per-hour, all the way to the opposite side of the stadium, almost as high as you started. After a few head-spinning oscillations, they'll winch you back—shaken but very much alive.
You might want to hang onto that Zombie Evel Knievel costume.