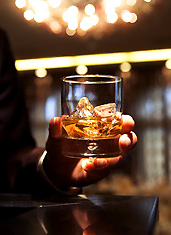 There are certain people you just need to know about.
Take Mary, Queen of Scots.
She could really drink.  
Before she got beheaded.
And while she ruled over Scotland and France, married her first cousin and plotted to kill Queen Elizabeth, her real legacy is her penchant for Lohan-esque booze-fueled romps... oh, and also a new Scottish brasserie on the Lower East Side, soft-opening this weekend.
To put it in perspective for you,
Mary Queen of Scots
is like a lively, lived-in, rustic tavern that you'll want to frequent before a proper night of royal rampaging on the LES, or for the kind of uncommitted, drinks-centric first date that could go either way. Meaning, the space is cozy but not too intimate, decked with reclaimed wood, a portrait of Mary, a wrought-iron chandelier and a 26-person communal table, and anchored by a huge square bar that sits gracefully under a mirrored honeycomb ceiling like the one Mary used to sleep under (royalty loves mirrored ceilings).
And while you could sit at the bar and methodically work your way through their giant, all-encompassing list of scotches you would expect (Macallan and the like) and strange scotches you've never heard of, if privacy is required, retire to the back dining room—guarded by cast-iron gates from an old freight elevator—and tuck away for
hearty dishes
like rabbit cassoulet and pork pies.  
Nothing says royalty like pork pies in freight elevators.