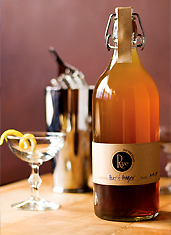 Ah, the cocktail den.
That majestic sanctuary that's an indispensable part of your daily routine...
But sometimes life gets in the way, so we've found a way to have the bar come to you.
Welcome
Rye on the Road
, a mobile cocktail bar and home delivery service that will do everything in its power to turn your living room into a professional funhouse, taking orders now.
Sort of like the cocktail equivalent of ordering in Chinese, you can look to them when you're requiring a little hair of the dog during non-bar hours, you're looking to stock up, or you actually did order Chinese and need a little bourbon number to wash it down.
All you have to do is give them a five-minute call to set it all up. Ideally, they'd appreciate a day's advance notice; however, if you plead a strong enough case (they're bartenders, they'll understand), they could get a few cocktail bottles (the rough equivalent of eight or nine cocktails) out the door that day.
You can order from their menu of about a dozen classics, including Manhattans and basil gimlets, as well as originals like the
Jalisco Heat
with tequila and jalapeño syrup. You can also get custom orders like a Bloody Mary, so long as it can be batched (after all, the best cocktails come in bulk).
Each order is a three-bottle minimum, but the drinks last a few days, so you don't have to drink them all at once.
Though we don't foresee any problems.