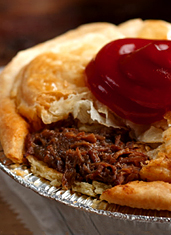 Ah, Australia.
You've conquered her beaches. You've tamed her breaks. You've hooked up with her Miranda Kerrs.
And lately, you've craved her pie (ahem), so we thought you'd be interested in the only place in town to get the real stuff. Turns out, it's in South Boston.
Introducing
KO Catering and Pies
, the first authentic Aussie snack shack in Boston (Outback Steakhouse doesn't count), opening today in Southie.
Brought to you by a pair of transplanted Aussies, think of this humble 10-seat shop as your go-to when the need for fresh, doughy Australian meat pies is the greatest (i.e., weekend pub crawls, or after a failed surf outing at Carson Beach). They've got five pies—they're like an empanada crossed with a potpie for one person—including classic beef with cheese, sausage roll, curried vegetable and Irish beef stew (no one does Irish beef stew like guys from Sydney).
If you're in a rush, they also have plenty of grab-and-go Down Under staples (
Chicken Schnitzel Burger
,
Spicy Shrimp on the Barbie
,
Grilled Haddock Sandwich
), and since shrimp is a bit much before noon, they've got breakfast covered too. Think: Vegemite on toasted sourdough, and chocolate-covered sponge cake treats called
Lamingtons
(aka the Aussie doughnut).
And come springtime, they'll be deploying the first-ever Australian food truck in New England.
Odds of Paul Hogan driving it: fair.