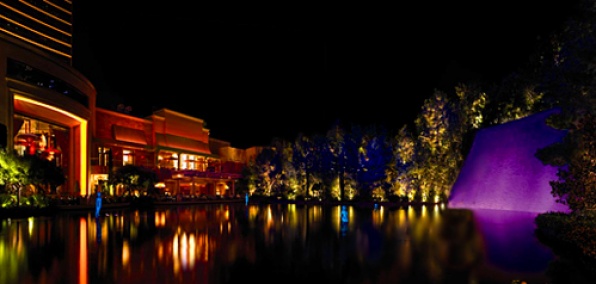 Sometimes you just want to get back to nature.

Specifically the neon-lit, steak-fueled part of nature. And if it's at all possible, you'd like to do it without leaving the Strip.

So welcome to Lakeside Grill, a new temple of puttanesca and prime rib that just happens to look out on a massive man-made lake, opening November 1 inside the Wynn.

Imagine a crisp, oh-so-modest dinner spot that happens to have been invaded by Cirque du Soleil. You might recognize the setting from the Daniel Boulud Brasserie—the humble mosaic-tiled floor, the open-air patio…and there, sitting quietly in the corner, a three-acre man-made "lake" with a 70-foot-tall waterfall and a teeming forest behind it. Yes, it's time to reacquaint yourself with the Lake of Dreams. It's missed you...

The show doesn't start until nightfall, so here's your play: get a table in the lakeside patio and order up a few tempura lobster tails before things get crazy. By the time you're moving on to the Dover sole, the sky should be dark and the madness should be ready to begin—in particular, a 10-minute lightshow involving 20-foot projected frogs, flamenco dancers and, yes, at least one fake metal female head rising out of the water.

She'll have the fish.