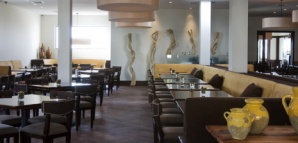 Patience is a virtue, but impatience brings answers more quickly.So we've got your first look inside
BLT Steak
, the famed NYC import (yes,
another one
) opening soon on the Sunset Strip.
The Bistro Laurent Tourondel—aka BLT—empire had busied itself spreading the gospel of high-end unfussy fare in exotic far-off lands (you know, like Dallas) before securing the historic former home of Le Dôme to inaugurate its presence in Los Angeles. And true to Tourondel's well-known disdain for the mundane, BLT Steak feels more like a sleek, sun-friendly bistro than the usual steakhouse built on mahogany and darkness. Which means it works for more than just a power dinner.
So bring a date, and once settled into the large booth at the back (or in the private room, where the view is best), the man himself tells us you'll want to order the
Tuna Tartare with Soy-Lime Dressing
, "any steak" (big surprise there) and the
Crêpe Souffle with Passion Fruit Sauce
.
Add in a former Wilshire chef with a reputation for making the most of the farmer's market, and you have a steakhouse that deviates from the norm just enough to make things interesting.
Interesting, but not irreverent...