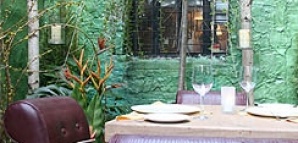 Just when you didn't think it was possible for the meat market to get any more crowded, it just did.

Markus Jacob, who successfully imported North African debauchery to Avenue B with Le Souk, will hopefully pass on some of that debauchery to the appropriately named churrascaria Carne Vale opening right across the street (tonight for private parties, to the public next Wednesday).

Carne Vale is New York's first Brazilian steakhouse to break the massive churrascaria mold. Finally, it's about the Carnival spirit as much as it is about the beloved meat. Look for an open colorful space with a purple and chartreuse zebra bar where you can revel with drinks like the Brazilian Wax served in bamboo cups (we hear it's real smooth going down...).

As for the real Carne in Carne Vale, it's the best beef deal in the city, a $35 all-you-can-eat smorgasbord of the usual suspects, all tastily prepared by Chef Diego Silva (BLT, Plataforma).

Take the scene out back to the garden patio, where you can have post-meat cocktails late into the night...and wonder how many times a week you can come here with the airfare you've saved by not having to fly to Sao Paolo.