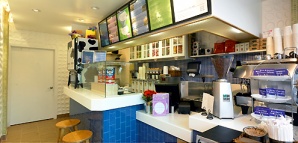 We've seen the future.

And we're here to report that while it might involve space tourism, it will definitely involve cereal restaurants.

The future is now...

Introducing Schweet Boks, a dime-size safe harbor for bowls upon bowls of mix-and-match cereals, opening this Saturday on Irving.

Schweet Boks sort of feels like a cross between a space-age kitchen and romper room—only with fewer toys (actually, you'll have to bring your own), and stools where you might've expected beanbags.

It's probably happened before: you wake up craving a bowl of Cinnamon Toast Crunch—but you somehow ran out of crushed Oreos to top it with. Or maybe it's just that your Raisin Bran needs a dose of Frosted Flakes with a spoonful of rainbow sprinkles or M&M's for some color.

Sort of like a burrito line for cereal, with three-dozen cereals and the equivalent in toppings, it all starts with a few scoops of your favorite cereals, toppings from apple pie filling to bananas and milk out of a dispenser dotted with cow spots.

But if your cup of coffee hasn't kicked in yet (they're making individual-drip from Intelligentsia), you can order their house recipes like One Too Many with Cap'n Crunch, Trix, Kix and Rice Krispies, or S'mores (Golden Grahams, Cocoa Puffs and marshmallows).

It never hurts to defer to the experts.