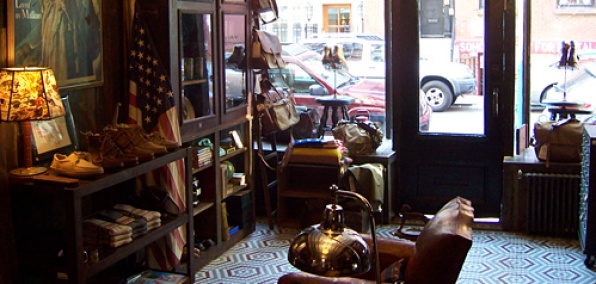 Limitations. Boundaries. Restrictions. Not for sale.

Words and petty contrivances that mean little to you.

So it's refreshing when a store opens its doors, welcomes you in and offers you the opportunity to purchase... everything.

Welcome to the cozy vintage emporium that is Palmer Trading Company, a tiny store where the walls, doors, counters, ceilings, rugs, furniture and even some actual merchandise—in the form of preppy weekender bags, boat shoes and other accessories—are for sale, just opened in SoHo.

Think of PTC as the sort of retro general goods store that Don Draper would shop at for his country house. A potent slice of Americana, decked in dark woods and deep leather chairs (for sale) that you'll want to sink into on a lazy afternoon to survey the trinkets of yore: ashtrays from the '30s, Rolexes and Hamiltons from the '40s, vintage sex magazines published under the guise of a medical journal, a guy's "black book" from the '50s, filled with real names and numbers (don't call Maureen—she's really just not interested anymore).

And while the old stuff is everywhere, there's a collection of woodsy retro items mixed in that fit the whole look of the place: handmade leather belts, thick wintertime socks and waterproof, made-to-order Eastland moccasins that will come in very useful once this whole wintertime thing gets under way.

And maybe a parting gift for Maureen.