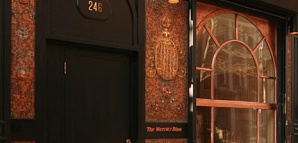 Hell hath no fury like a barman scorned.

As much as we were enjoying Sasha Petraske's scene-making run on cocktail sanctuaries (Milk and Honey, Little Branch), we have to cop to a tinge of satisfaction when we heard the East Village community board denied his latest liquor license request. Not that we're haters, but we just knew deep down inside that he would turn his fussy, meticulous, artisan lens to some new medium in an attempt to thumb his nose at those who dare oppose him.

The result: an anti-coffeehouse-vibe coffeehouse where the focus is squarely on the bean and the resulting cup of joe. Introducing The Mercury Dime, opened over the weekend in the East Village.

Leave it to Petraske to build a coffee shop around an espresso machine first produced in 1961 (the Faema E61, "Cadillac of espresso machines") and a formerly down-and-out bean purveyor (Dallis of Queens) that started making high-end coffee in 1913. Add in a rare Ethiopian coffee called Chichu—available in the U.S. only at the Mercury Dime—and a smattering of homemade teas, sandwiches and desserts, and you start to get the picture.

It's boutique quality—the furniture is homey and wooden, and the place feels more like a B&B minus the bed than a typical coffeehouse—with a fireplace and free wi-fi to boot.

And if the community board ever comes to its senses, Mercury Dime plans to turn into a wine bar at night.

And that's when all hell breaks loose.