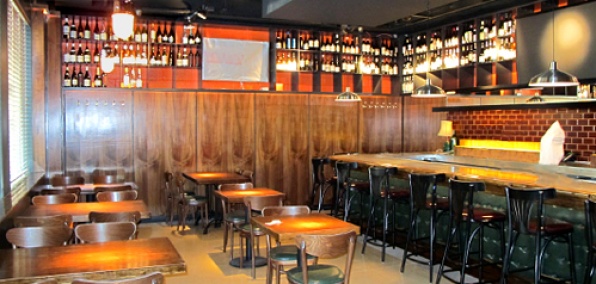 Our Department of Burgers has been busy.

New intel has been unearthed.

And we're not going to say it involves bacon jam, but we're not going to not say that...

So on this easygoing Friday afternoon, we bring you first word that Burger & Barrel, a new patty emporium and beer shack from the folks behind Lure Fishbar, is opening next week in SoHo.

Looking out onto the stiletto theater of Houston Street, B&B is the sort of breezy and light restaurant you don't normally associate with houses of beef: there's a wall of windows for people-watching, light wood tables and banquettes are strategically arrayed for checking out the other tables and banquettes, and there are seats at the bar for those who require total focus on meat and bun.

You'll want to note that these particular burgermeisters choose to grill their patties with mustard pre-added, in the style of a certain Los Angeles chain that has become the stuff of fast-food legend. But don't let that distract you from your burger consumption/field reporting mission: stake out a table near the window for prime indoor/outdoor scene surveying and let your burger come as the burger gods (okay, just the chef here) intend: topped with American cheese, slathered in piping-hot caramelized onions and finished strong with... bacon jam.

Or don't keep things simple, and go for the sloppy joe burger, two beers and a pulled pork or short rib taco.
 
Bacon jam optional.