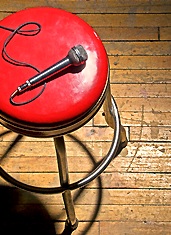 You hold court at the watercooler with Seinfeldian rigor. You've reduced conference rooms to tears of laughter. You grew up with a Sam Kinison lunch box.
So we think you're ready for the big time. Or at least the medium time...
Presenting
Closet Comics Big Break
, a stand-up comedy workshop at the BCAE that could end with you on stage at the Wilbur, now accepting registrations for November.
Think of it as
Last Comic Standing
, Boston Edition. The setup: after gathering together your best two minutes of material, you'll dive into the two-hour workshop at the BCAE, where comics who have shared the stage with everyone from Leno to Sandler will help you fine-tune your David Cross-meets-1970s Steve Martin schtick. (So yes, bring the rubber chicken.)
You'll then deliver your comedy genius before a panel of judges in the BCAE ballroom (tip: watch a lot of Louis C.K. ahead of time... and go easy on the airport humor). And after you slay them, you'll land a plum gig at the Wilbur on November 10, opening for Brad Garrett of
Everybody Loves Raymond
fame.
Think of it as skipping the whole "paying your dues" thing.