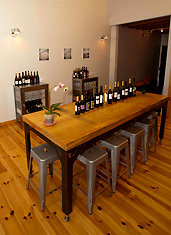 A little intrigue goes a long way.
So when we heard about a new, hidden spot actually calling itself a secret, we were slightly dubious about its true intentions.
But after some careful investigation, we're pleased to bring you a true hidden gem...
Welcome
The Secret Wine Shop
, a speakeasy-esque wine den focused solely on introducing you to obscure wines you probably haven't heard of and pouring them by the glass or bottle for your drinking enjoyment, now open by appointment only in SoMa.
Think of this as your own private tasting room a quick taxi ride away that's hell-bent on surprising you with wines you wouldn't discover on your own—including some made from restored abandoned vines throughout Sonoma.
There's no sign out front, so you'll want to look for the Gothic facade of the 1920s warehouse—or, specifically, the big metal door at 1097 Howard. Once inside this lofty, high-ceilinged space that's almost more art gallery than bar (nicely camouflaging its Prohibition-era aspirations), you'll want to grab a stool at the wood table in the middle of the room and start with a flight or two from their list that's constantly in flux with otherwise hard-to-find varietals.
The official opening is still a few weeks off, but if you're planning an unannounced visit, we'd suggest Monday nights, when they do blind tastings of six different wines. After three hours of heavy research, they'll reveal to you the true identities of the wines.
Which may not matter after three hours...